Reverse Tashlich & Lunch
Sunday, October 2, 2022
•
7 Tishrei 5783
12:00 PM - 4:00 PM
Sagel - Religious School Auditorium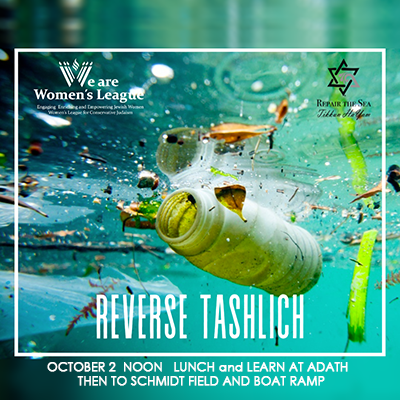 Come enjoy lunch with kids, families, and congregants of all ages, while learning ways you can help care for our environment!
After the "Lunch and Learn" we will head to Schmidt Field and Boat Ramp in the east end of Cincinnati to do the mitzvah of Reverse Tashlich. Similar to when we throw our sins into the water, Reverse Tashlich is when we take human sins out of our waterway, improving our local watershed by removing trash. Participants will be given gloves and metal grabbers to collect trash on the bank of a waterway.
This program will be happening nation-wide and is sponsored by Women's League for Conservative Judaism and the Conservative/Masorti Movement to raise awareness about the deep Jewish connection to water, and reinforce the urgent moral imperative to protect the aquatic environment.
All ages welcome and encouraged to attend!
Sorry, Registration has ended.
Share Print Save To My Calendar
Thu, October 6 2022
11 Tishrei 5783
Thu, October 6 2022 11 Tishrei 5783