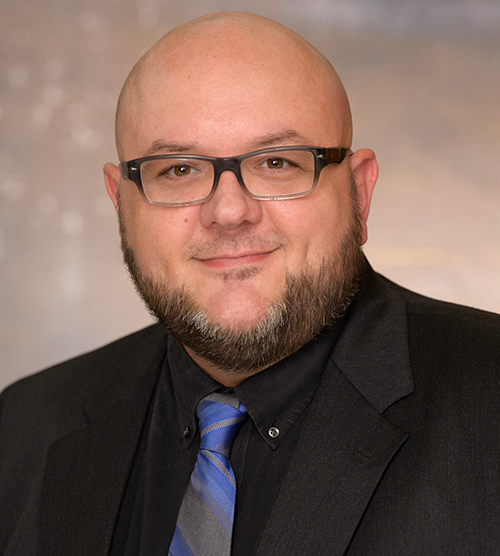 CHRIS HANNON
Chief Operating Officer
(he/him/his)
(513) 793-1800 ext. 115
Email: chris@adath-israel.org
Chris comes with his family from West Lafayette, Indiana, and has significant management and leadership experience working with non-profits. Most recently, he served as Executive Director of Big Brothers Big Sisters of Greater Lafayette. Chris is skilled in strategic, goal-oriented thinking, talent management, budgets and finance, and communication.
MITCH COHEN
(he/him)
Bar/Bat Mitzvah Coordinator
Director of Communications
(513) 793-1800 ext. 107
Email: mitch@adath-israel.org
Mitch heads our Bnai Mitzvah department teaching Bar and Bat Mitzvah students and coordinating with their parents. This is his 10th year teaching Bar and Bat Mitzvahs. He is our High Holiday Cantor and choir director. He also coordinates synagogue communications and administers this website. He grew up at Adath Israel. Before synagogue life, Mitch started a technology company with his wife Sherry.
RACHEL BROWN
Director of Education and Youth and Family Programming
(513) 793-1800 ext. 104
Email: rachel@adath-israel.org
Rachel grew up in Knoxville, TN and is relatively new to Cincinnati, but she does have several grandparents and great-grandparents who were Cincinnati natives and lifelong members of Adath Israel (what a small world!). Rachel received her Bachelor's degree in Classical Vocal Performance with minors in German and Judaic Studies from the University of Tennessee. During her time in college, Rachel performed regionally in musical theatre and internationally in opera and choral programs. After graduating with her Master's degree in Musical Theatre Performance from the University of Central Oklahoma, Rachel lived, auditioned, and performed in New York City. While in New York, she was a Religious School teacher at a number of large Conservative and Reform congregations, positions that she continued as a virtual teacher during the pandemic. Rachel and her husband moved to Cincinnati in December of 2020, and she started as the Director of Education and Youth & Family Programming in January of 2022. In her free time, Rachel enjoys exploring Cincinnati, doing cantorial work for her childhood synagogue in Knoxville, and singing and leading Israeli dancing in her family Klezmer band.
Samantha Rose
Youth Coordinator and Programming Assistant
samantha@adath-israel.org
Samantha has recently earned her Bachelors at University of Cincinnati where she studied Criminal Justice and Hebrew. Throughout her time there, she was active with Challah for Hunger, Bearcats for Israel, and spent her free time teaching at CHDS and Valley Temple.
KATHY HAAS
Assistant Administrator
(513) 793-1800 ext. 106
Email: kathy@adath-israel.org
Kathy supervises all aspects of building usage, catering, office, and High Holidays as well as a myriad of other projects.
KIM AMBROSIUS
Administrative Assistant
(513) 793-1800 ext. 164
Email: kim@adath-israel.org
Kim was born and raised in Cincinnati and went to school for Computer Business Management. She handles Rabbi Smolkin's calendar scheduling, works with bar/bat mitzvah students and their families, arranges caring havurah deliveries, and handles registration for adult studies classes. If you have questions about conversion to Judaism or how to arrange for a bris or baby naming, she can help. In her spare time, she loves to volunteer and help any animal shelter or organization to find homes and dwindle the homeless.
TIM PATTON
Building Manager
Tim and his staff maintain the synagogue's physical plant and grounds with great care - much as they do in their own homes. Contact Tim through the Synagogue office at 513-793-1800.

BARBARA BRESLER
Librarian
barbara@adath-israel.org
Barbara Morrison-Bresler grew up in Dallas, Texas and holds a Fine Arts Degree from the University of Texas and a Masters in Landscape Architecture from the University of Georgia. She was a librarian at the University of Nebraska, the Archivist/Director for the Nebraska Jewish Historical Society, and a consultant archivist with the Jewish Women's Archive in Boston. Since moving to Cincinnati, Barbara has served as the Librarian at Adath Israel. Barbara is married to Scott Bresler and is mom of Lenny, Elka and Micah.
Thu, October 6 2022 11 Tishrei 5783