CHRIS HANNON
Chief Operating Officer
(he/him/his)
Extension: 115
Email: chris@adath-israel.org
Chris comes with his family from West Lafayette, Indiana, and has significant management and leadership experience working with non-profits. Most recently, he served as Executive Director of Big Brothers Big Sisters of Greater Lafayette. Chris is skilled in strategic, goal-oriented thinking, talent management, budgets and finance, and communication.
KIM AMBROSIUS
Rabbi Smolkin's Administrative Assistant
Extension: 164
Email: kim@adath-israel.org
Kim was born and raised in Cincinnati and went to school for Computer Business Management. She handles Rabbi Smolkin's calendar scheduling, works with bar/bat mitzvah students and their families, arranges caring havurah deliveries, and handles registration for adult studies classes. If you have questions about conversion to Judaism or how to arrange for a bris or baby naming, she can help. In her spare time, she loves to volunteer and help any animal shelter or organization to find homes and dwindle the homeless.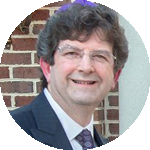 MITCH COHEN
High Holy Day Cantor, Bar/Bat Mitzvah Teacher & Coordinator
Choir/Band Director
Extension: 107
Email: mitch@adath-israel.org
Mitch heads our Bnai Mitzvah department teaching bar and bat mitzvah students and coordinating the event with parents. He serves as our High Holy Day Cantor and directs our choir. He also is a musical service leader for special services, such as our Kabbalat Shabbat Neshama.
PHYLICIA COOK
Coordinator of Youth and Family Programs
Extension: 103
Email: phylicia@adath-israel.org
Phylicia was born in Baltimore and moved to South Florida in 2000 where her love for Kadima and USY began! Phylicia loved learning the ins and outs of temple life which led to her leadership roles in USY. She received her B.A. in English from Florida Atlantic University in 2013, but her passion for USY continued as she became the youth director at Temple Beth Am in Margate, Florida during her senior year. In 2016, she made the brief move to Pittsburgh to complete an 11-month service year as an education justice fellow for the Jewish non-profit Repair the World. Her husband, Jason, is in Rabbinical school at HUC.
KATHY HAAS
Assistant Administrator
Extension: 106
Email: kathy@adath-israel.org
Kathy supervises all aspects of building usage, catering, office, and High Holy Days as well as a myriad of other projects.
SYDNEY HOLT
School Administrative Assistant
(she/her/hers)
Extension: 121
Email: sydney@adath-israel.org
Sydney is from St. Louis, MO. She recently graduated from Indiana University with a degree in Religious Studies and a certificate in Jewish Studies. Her years at Herzl Camp in Wisconsin, attending USY events, and studying abroad in Jerusalem, have steered her towards a career in the Jewish sector.
MOLLIE NEWMAN
Director of Marketing & Communications
(she/her/hers)
Extension: 129
Email: mollie@adath-israel.org
Mollie manages online and printed publications, social media, and synagogue communication. Holding a bachelor's degree from the University of Michigan in History and Film and Video Studies, she worked as a film/TV producer in New York and LA. Upon returning to her hometown, Mollie took the position as Adath Israel's Coordinator of Youth and Family Programs, a role she found both rewarding and tremendous fun. Most recently, she served as the Public Relations and Communications Coordinator at Wise Temple. Mollie comes to this new position with years of experience in communication, organization, and synagogue life, as well as a passion for graphic design. She lives with her husband, Jared, and her two children, Arthur and Lielle.
TIM PATTON
Building Manager
Tim and his staff maintain the synagogue's physical plant and grounds with great care - much as they do in their own homes. Contact Tim through the Synagogue office at 513-793-1800.
REBEKAH SKIRBALL MILLER
Director of Education and Youth & Family Programming
(she/her/hers)
Extension: 104
Email: rebekah@adath-israel.org
Rebekah has over twenty years of experience as an educator in both Jewish day schools and congregational education programs. She has a Masters in Elementary Education with a focus on Jewish Day Schools from Brandeis University, and a Masters in Music with a focus on Opera Performance from The Boston Conservatory. She spent twenty-five years in Israel, where she attended school and served in the military. She and her husband, a Cincinnati native, are very excited about living in Cincinnati and being close to family.
MEG WELLS
Director of Engagement and Congregational Programming
(she/her/hers)
Extension: 118
Email: meg@adath-israel.org
Meg, a Cincinnati native, spent the last three years working for Hillel at the University of Rochester, growing the small Hillel into an organization widely recognized across campus. Prior to her work with Hillel at the U of R, Meg received a BFA in Visual Media focusing on photography, graphic design, and print media layout design. Meg is excited to bring her passion of creating meaningful and inclusive Jewish communities to the Adath Israel and Cincinnati communities. You are bound to see her, whether it's around the synagogue, rock climbing, or out and about in Cincinnati.
Fri, June 18 2021 8 Tammuz 5781