CHRIS HANNON
Chief Operating Officer
(he/him/his)
Extension: 115
Email: chris@adath-israel.org
Chris comes with his family from West Lafayette, Indiana, and has significant management and leadership experience working with non-profits. Most recently, he served as Executive Director of Big Brothers Big Sisters of Greater Lafayette. Chris is skilled in strategic, goal-oriented thinking, talent management, budgets and finance, and communication.
KIM AMBROSIUS
Rabbi Smolkin's Administrative Assistant
Extension: 164
Email: kim@adath-israel.org
Kim was born and raised in Cincinnati and went to school for Computer Business Management. She handles Rabbi Smolkin's calendar scheduling, works with bar/bat mitzvah students and their families, arranges caring havurah deliveries, and handles registration for adult studies classes. If you have questions about conversion to Judaism or how to arrange for a bris or baby naming, she can help. In her spare time, she loves to volunteer and help any animal shelter or organization to find homes and dwindle the homeless.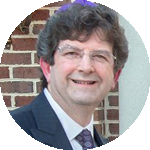 MITCH COHEN
High Holy Day Cantor, Bar/Bat Mitzvah Teacher & Coordinator
Choir/Band Director
Extension: 107
Email: mitch@adath-israel.org
Mitch heads our Bnai Mitzvah department teaching bar and bat mitzvah students and coordinating the event with parents. He serves as our High Holy Day Cantor and directs our choir. He also is a musical service leader for special services, such as our Kabbalat Shabbat Neshama.
KATHY HAAS
Assistant Administrator
Extension: 106
Email: kathy@adath-israel.org
Kathy supervises all aspects of building usage, catering, office, and High Holy Days as well as a myriad of other projects.
SHAWN MAUS
Director of Communications
(he/him/his)
Extension: 129
Email: shawn@adath-israel.org
Shawn oversees the team responsible for developing communication strategies that help advance the congregations' efforts to make a broad impact through the sharing of effective ideas and practices.
He regularly makes presentations on strategic communications and has published articles on communications, copywriting, and theatre criticism. He holds a master's degree in Screenwriting from the David Lynch School of Cinematic Arts and a B.F.A in Electronic Media from the College-Conservatory of Music.
TIM PATTON
Building Manager
Tim and his staff maintain the synagogue's physical plant and grounds with great care - much as they do in their own homes. Contact Tim through the Synagogue office at 513-793-1800.
CHLOE IFERGAN
Director of Congregational Programming
(she/her/hers)
Extension: 118
Email: chloe@adath-israel.org
Prior to arriving at Adath Israel, Chloe was working for the Jewish community in Dayton, Ohio where she divided her time between the JCC Early Childhood Education Center and the Jewish Community Relations Council. Prior to her work with the Dayton JCRC, Chloe lived and worked in Germany as both a writing contributor and editor to several cultural publications and magazines. Chloe is grateful to return home and has enjoyed exploring what the Cincinnati Jewish community has to offer. Her goal is to create an inclusive, welcoming space through inter-congregational relationship building and to ensure Adath Israel plays an active role within the broader Cincinnati Jewish community.
Sun, June 26 2022 27 Sivan 5782