The 3rd Annual "Let There Be a New Light This Chanukah" Recycling Event
Sunday, December 10, 2023
•
27 Kislev 5784
10:30 AM - 11:30 AM
Adath Israel Congregation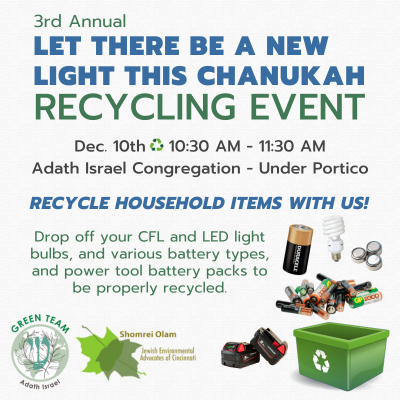 Join the Adath Israel Green Team for the 3rd Annual "Let there be a new light this Chanukah" recycling event!
Please only enter from East Galbraith Road (right turn) Turn right behind the building. Drop-off bins will be on your right under the large portico. Drive slowly to the portico. Folks will be there to assist you.
---
Household Light Bulb types collected*:
CFL (Compact Fluorescent)
LED (Light Emitting Diode)
*Unfortunately, long, slim fluorescent bulbs can not be accepted currently.
Household Battery types collected:
AA and AAA (TV remotes, toys)
C and D (large flashlights)
123 Lithium (smoke detectors)
9V (smoke detectors)
Flat button batteries (hearing aids, watches)
Power tool battery packs (drills, hedge trimmers)
---
Questions? Email Evelyn Wagner
Share Print Save To My Calendar
Wed, December 6 2023
23 Kislev 5784
Wed, December 6 2023 23 Kislev 5784