REBEKAH SKIRBALL MILLER
Director of Education
Rebekah Skirball Miller has over twenty years of experience as an educator in both Jewish day schools and congregational education programs. She has a Masters in Elementary Education with a focus on Jewish Day Schools from Brandeis University, and a Masters in Music with a focus on Opera Performance from The Boston Conservatory. She spent twenty-five years in Israel, where she attended school and served in the military. She and her husband, a Cincinnati native, are very excited about living in Cincinnati and being close to family.
SYDNEY HOLT
Administrative Assistant, Religious School
Sydney Holt is from St. Louis, Missouri. She graduated from Indiana University in 2018 with a degree in Religious Studies and a certificate in Jewish Studies. She spent years as a counselor and program director at Herzl Camp in Webster, Wisconsin, and was very involved in USY in St. Louis throughout high school. Her Jewish education from camp and USY led her to study abroad in Jerusalem on The Nachshon Project. She lives with her family and two dogs, Suki and Tanner, in Loveland. Sydney is passionate about Judaism and very excited to continue working at the Adath Israel Religious School office!
PHYLICIA COOK
Coordinator of Youth and Family Programs
Phylicia was born in Baltimore and moved to South Florida in 2000 where her love for Kadima and USY began! Phylicia loved learning the ins and outs of temple life which led to her leadership roles in USY. She received her B.A. in English from Florida Atlantic University in 2013, but her passion for USY continued as she became the Youth Director at Temple Beth Am in Margate, Florida, during her senior year of college through 2016. A year later, she moved to Cincinnati and completed a certificate program from Hebrew Union College in Emerging Adolescence, and is currently the Treasurer on the Jewish Youth Director Association Board. Phylicia is thrilled to be the CYFP for a third year at Adath Israel! In her spare time, she loves cooking and spending time with her husband, Jason!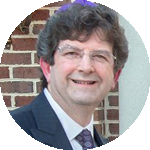 MITCH COHEN
Music & Trope Teacher & Bar/Bat Mitzvah Teacher
Mitch Cohen has been teaching music at the Jarson Education Center for several years. He is Adath Israel's High Holy Day Choir Director and enjoys composing original music. He started in the choir as a congregant when he was 16 and became Director in 1991. Mitch also directs Adath Israel's Friday Night Live band, Shir Ami, and other synagogue music programs. He also enjoys teaching at the Mercaz Hebrew High School. Mitch is a graduate of Walnut Hills High School, and earned a BA with high honors in Psychology from the University of Cincinnati, where he received the Claire E. Hubert Award. He runs an Internet dot com company he started with his wife Sherry. Mitch is the Bar/Bat Mitzvah teacher for Adath Israel & regularly davens, and chants Torah and Haftorah. He is married to Sherry and has three children, Jeff & Emily, and Ben all Jarson Education Center graduates.
SHERRY COHEN
Pre-Gan (Pre-Kindergarten)
Sherry Cohen grew up in Amberley Village Ohio. She earned her Bachelors degree in Early Childhood Education at U.C. She taught preschool, daycare, and finally Kindergarten where she received the Martha Holden Jennings teaching award for excellence. Sherry left teaching to raise her own 3 kids, but also runs an internet company with her husband Mitch Cohen. Now that Sherry's kids are grown, she returned to teaching at Adath Israel. Sherry received the Walter Hattenbach teacher of the year award her first year back in the classroom. Her interests are walking, watching HGTV, playing Candy Crush, visiting Disney World and her Corgi.
DEBBIE LEMPERT
Gan (Kindergarten)
Debbie Lempert grew up in Cincinnati, Ohio. She earned her B.A. in Elementary Education and Masters in Literacy from the University of Cincinnati. Debbie taught first and second grade over 8 years at the Wyoming City Schools in Wyoming, Ohio. She left Wyoming to teach two very special students, Zachary and Hannah Lempert. Currently Debbie teaches Kindergarten at Adath Israel Religious School. Among her many interests, Debbie spends a lot of time volunteering at Adath Israel and is currently serving as the synagogue president. She also is learning to play the guitar. In her free time, she loves spending time with her family and enjoys cooking, making scrapbooks and playing games.
DEENA ABERNATHY
Kitah Aleph (1st Grade)
Deena Abernathy was born and raised in Wilmington, Delaware. She graduated with a B.A. in Women's Studies from the University of South Florida. She moved from Lexington, Virginia with her husband Brett Schwartz and their daughter Gracie, and has since had daughter Sadie and son Oliver. She worked as an Ophthalmic Technician as well as a substitute teacher. Deena enjoys being a part of the Adath Israel community and teaching 1st grade.
GALIA WECHSLER
Kitah Bet (2nd Grade)
Galia Wechsler is originally from Westchester, NY, and is currently a sophomore at the University at Buffalo. She is studying history with a double minor in Psychology and Judaic Studies. She wants to become a teacher and one day move to Israel. Meanwhile, Galia spends her free time baking, doing art, and spending time with friends.
SHOSHANA BOARDMAN
Kitah Gimel (3rd Grade)
Shoshana Boardman has close to a decade of Hebrew school teaching experience. She went to Jewish day school through eighth grade, followed by four years of intensive afterschool Talmud and Hebrew. She's spent summers at BIMA (a Jewish arts program at Brandeis), ulpan in Jerusalem, Drisha, Pardes, Hadar, and taken a number of Jewish Studies courses at the Harvard Divinity School, including Aramaic and Yiddish. She has designed curriculum to teach about stories from Shemot, relevant midrashim, and Jewish values, and spent several years helping with text skills and ḥevruta arrangements at Boston Teen Beit Midrash. She is an AB Candidate in History and Literature, Math at Harvard University, Cambridge, MA.
ZAK LEMPERT
Kitah Daled - 4th Grade
Zak Lempert is a Judaic Studies major at the University of Cincinnati entering his second year. After 8 years of attending Religious School at Adath Israel and 5 years of serving as a teaching assistant, Zak is very excited to join the teaching staff. Apart from his time teaching fourth grade, he teaches high school students at Mercaz, the Conservative Hebrew high school. During the year Zak can be found helping with risk management and inclusion for AEPi, the Jewish Fraternity at the University of Cincinnati. When he's not in school, Zak enjoys spending time with his friends and family.
SHIRAN ORLEV
Kitah Hei (5th Grade)
Shiran Orlev has been teaching for over a decade, most recently as a volunteer Hebrew teacher at Rockwern Academy, Cincinnati, OH. She has a teaching certificate in History from the Open University of Israel. She taught Jewish History, Hebrew Literature, Political Science, and Hebrew language to students in upper elementary and middle school in Israel. She is currently enrolled as a student of Teaching Hebrew as a Second Language at Middlebury College, VT. She lives with her husband Eithan and three children Itay, Ori, and Maya.
ILANA SYMONS
Kitah Vav (6th Grade)
Ilana Symons is a second year rabbinical student at HUC-JIR's historic Cincinnati campus and is serving as the TJF Education Fellow this year. Ilana grew up outside of Pittsburgh, PA and received her BA in Philosophy from NYU. She taught religious school for many years in New York and developed there also a passion for theater and museums. Ilana hopes to share her love of engaging with Jewish texts with the sixth grade and is excited to be joining the Adath community!
TOBY SAMET
Support and Enrichment
Toby Samet, a Cincinnatian by birth, graduated from Hughes High School and the University of Cincinnati College of Education (with high honors). She has taught at Adath Israel since 1966, while also teaching kindergarten at Yavneh Day School (Rockwern), preschool at the Jewish Community Center, and was Director-Teacher at Adath Israel Preschool. Her family includes son Mike, grandson Danny and daughter Michelle & husband Sam, ( both of blessed memory). Hobbies are gardening, animal conservation (volunteered at the Zoo for 25 years), classical music, and mah jongg. The Resource Room is where you can find her, supporting the needs of Religious School children.
BRETT SCHWARTZ
Support and Enrichment
Brett Schwartz, orginally from Philadelphia, earned M.S. in Organizational Development and Leadership and has been working in Jewish communal settings for the last seven years. Brett started off his career at Adath Israel as the Youth and Family Programming Director and is excited to be back with this wonderful community with his wife, two daughters and son.
GAIL JACOBS
Assistant Teaher
Gail Jacobs has been a life long member of Adath Israel Congregation. She became a bat mitzvah here and attended Adath Israel Religious School. She was also a teaching assistant when she was in high school. She was active in Kadima and USY and attended Camp Livingston and Camp Ramah. She also traveled to Israel. She studied Elementary Education/Early Childhood Development at the University of Cincinnati. Gail is returning for her 13th year teaching at Adath Israel. She is the mother of five, all Adath Israel and Mercaz graduates. She lives in Wyoming with her pit bull Moses and her chihuahua Skitch. Gail will be lending her expertise in the classrooms this year.
BARBARA BRESLER
Librarian
Barbara Morrison-Bresler grew up in Dallas, Texas and holds a Fine Arts Degree from the University of Texas and a Masters in Landscape Architecture from the University of Georgia. She was a librarian at the University of Nebraska, the Archivist/Director for the Nebraska Jewish Historical Society, and a consultant archivist with the Jewish Women's Archive in Boston. Since moving to Cincinnati, Barbara has served as the Librarian at Adath Israel. Barbara is married to Scott Bresler and is mom of Lenny, Elka and Micah.
CHRISSIE BLATT
Religious School Board Chair
Wed, November 25 2020 9 Kislev 5781